When I'm in a social setting, and I introduce myself as a Boston Estate Planning Attorney, one of the comments I always hear is, "Isn't estate planning only for the wealthy and those subject to estate taxes."
While it's true that wealthy individuals and families require complex estate planning, all individuals over the age of 18 should have basic estate planning documents in place.
The alternative – having the state of Massachusetts decide what happens – will definitely be a lousy experience.
I provide basic estate planning documents – wills, health care directives and proxy, and durable power of attorney.
In addition, I help those individuals who wish to plan business succession and inheritance issues that involve more complex trust instruments.
Here's a more detailed look at how I can assist you with your estate planning needs.
Since Massachusetts is one of only two states in the nation where same-sex marriage is legal, I am devoted to helping same-sex partners achieve the security and equal status that opposite-sex partners are entitled to by utilizing proper estate planning.
A same-sex marriage in Massachusetts need not be recognized by any other state in the nation due to federal law. As such, gay and lesbian individuals and partners have special estate planning needs which must take into account this separate status.
I will utilize the basic estate planning documents – will, health care directive and proxy, and power of attorney – along with appropriate trust documents, tailored to gay and lesbian individuals or couples to meet the challenges of this separate status.
If you're looking for professional and leading-edge Boston estate planning legal guidance, contact me by clicking here: or call (617) 273-5110.
Click on image below to view estate planning brochure: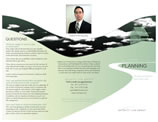 If you'd like to get a head-start on planning your estate, consider "The Complete Guide to Organizing Your Records for Estate Planning". I had the opportunity to be a main contributor on this guide and it's written in easy to understand language that will let you take charge of your estate planning documentation but also save you time, money, and effort.