When I'm in a social setting, and I introduce myself as a Boston Estate Planning Attorney, one of the comments I always hear is, "Isn't estate planning only for the wealthy and those subject to estate taxes."
While it's true that wealthy individuals and families require complex estate planning, all individuals over the age of 18 should have basic estate planning documents in place.
The alternative – having the state of Massachusetts decide what happens – will definitely be a lousy experience.
I provide basic estate planning documents – wills, health care directives and proxy, and durable power of attorney.
In addition, I help those individuals who wish to plan business succession and inheritance issues that involve more complex trust instruments.
Here's a more detailed look at how I can assist you with your estate planning needs.
Wills: A Will is the first (and smartest) step for any estate plan because it provides a very effective and low-cost way to transfer any assets you might have to your heirs and details your wishes. To get more information, go here >> Will preparation for Boston area residents.
Trusts: While a Will is a great start, a Trust is the next logical step because it allows your estate to avoid probate (a very good strategy) and keeps your wishes private. It also allows for more control of your estate. Learn more about trusts here >> Massachusetts Trusts
Power of Attorney: If you ever become incapacitated, assigning power of attorney to someone else allows you to keep all current plans in place and keeps your estate out of probate court – which can be a lengthy and costly experience. Discover more about POA here >> Boston Massachusetts Power of Attorney
Health Care Proxy: With this document, you stipulate what type of medical decisions should be made if you are temporarily unable to make these types of decisions – and avoid putting this burden on your family. Essentially, it designates a Power of Attorney for health care purposes. Get more information here >> Boston Massachusetts Health Care Proxies
Health Care Directive / Living Will : These documents are very often used to prepare for a terminal illness or medical emergency where it is unlikely that you will survive. This document removes any liability from the attending physician and hospital and instructs them to carry out your wishes. Learn more here >> Massachusetts Living Will Information
Tax Planning: Solid planning to minimize estate taxes is an important part of an overall estate plan – particularly for those with estates valued at more than $1 million. Read more about important changes to the Estate Tax Laws here >> MA Estate Tax Planning
Since Massachusetts is one of only two states in the nation where same-sex marriage is legal, I am devoted to helping same-sex partners achieve the security and equal status that opposite-sex partners are entitled to by utilizing proper estate planning.
A same-sex marriage in Massachusetts need not be recognized by any other state in the nation due to federal law. As such, gay and lesbian individuals and partners have special estate planning needs which must take into account this separate status.
I will utilize the basic estate planning documents – will, health care directive and proxy, and power of attorney – along with appropriate trust documents, tailored to gay and lesbian individuals or couples to meet the challenges of this separate status.
If you're looking for professional and leading-edge Boston estate planning legal guidance, contact me by clicking here: or call (617) 273-5110.
Click on image below to view estate planning brochure: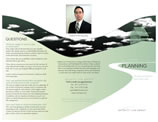 If you'd like to get a head-start on planning your estate, consider "The Complete Guide to Organizing Your Records for Estate Planning". I had the opportunity to be a main contributor on this guide and it's written in easy to understand language that will let you take charge of your estate planning documentation but also save you time, money, and effort.